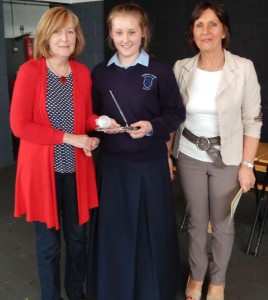 Our annual Awards Ceremony took place on Thursday 19th May 2016 where over 120 students received an award/certificate in recognition of the successes and achievements across a wide range of activities.
At the end of each year St. Anne's Community College hosts an end of year Awards Ceremony to acknowledge and reward the achievements of individual students and teams of the college over the year.
This is a very special event in our school calendar and we are delighted to showcase and celebrate the successes of our students.
We recognise academic achievements as well as personal successes, positive contribution to school life and extra-curricular activities.
School Principal, Aideen Walsh opened the proceedings and paid tribute to the students, their parents and their teachers for their work, commitment and support throughout the year.
Students received awards for: Art, Bord Gais Energy Student Theatre, Business, Chess, Community Involvement, Contribution to Charity & School Life, Creative Writing, Culinary Arts, Debating, Enterprise, Film, Information Technology, Innovation & Design, Maths, Mental Health Awareness, Music, Poetry, Public Speaking, School Spirit, Speech & Drama, Sport, Student Council, Student Mentors.
Certificates for good attendance and exemplary behaviour will be issued later.
Students involved in the Gaisce programme will receive their medals later in the year when the results are known.
SPORTS AWARDS
Sport is very significant in the life of the school and there is a strong tradition of success.  Athletics, Badminton, Camogie, Gaelic Football, Hurling, Rugby and Soccer are amongst the sports provided.
SPORT STAR OF THE YEAR:
This year's Sport Star is Moya Ryan who was recognised for her achievements in Badminton during the year at School and National Level.
TEAM OF THE YEAR:
The Under 15 Camogie Munster & All Ireland Champions were the undoubted winners of Team of the Year.
STUDENT OF THE YEAR:
Each year an outgoing Leaving Certificate student is acknowledged for the positive impact they make on life at St. Anne's. Ms. Walsh announced the nominees who were Emma Collins, Liza Dundon, Holly Farrell, Liam Horgan, Seán Rainford, Moya Ryan, Seán Vaughan & Dónal Watson.
Moya Ryan is this year's recipient as voted by the teaching staff, not just for academic achievements but for her overall contribution to the school community.
Ms. Walsh concluded the ceremony by congratulating all the award recipients for their individual achievements and thanked the teachers involved in organising the smooth running of the event.