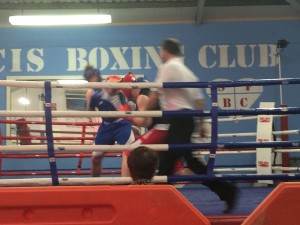 It takes a very brave person to step into a boxing ring for 3 rounds.
Tanya O'Flynn (Leaving Cert) and Seamus Boyle (3rd Year) were boxing Thursday night at St. Francis Boxing Club home to world champion boxer Andy Lee.
2 thrilling fights ended with the boxers according each other the respect they each deserve for their enthusiasm and tenacity.
Tanya fought a skilled performance using a very stylish technique. Despite having dominated the final round it was not enough to sway the judges opinion away from an opponent to whom she was conceding an 11Kg weight advantage.
Seamus' bout was top of the card. He fought with an excellent tight technique putting together many combinations and defending well. He dominated in the 3rd round during which a stunning left hook almost unseated his opponent. He narrowly lost out to the 2 times Irish title holder, 2 years his superior, although many who attended on the night believed a draw would be a fairer result.
Thank you to Ms. E Corbett for her ringside report.